Create PDF
Edit PDF
Secure PDF
Review PDF
Export to Word
PDF Pro is the easy to use alternative to Adobe Acrobat, allowing you to view, create, edit, secure, revise, or collaborate on a PDF document. PDF Pro's intuitive interface makes it easy to take advantage of the full versatility of any Portable Document Format file!

The trial version adds a watermark to edited documents and is fully operational for 14 days, after which it will cease to work until activated. You must purchase a license in order to activate the full version of PDF Pro 10.
Compatible with:

Minimum system requirements:
100% PC compatible
Pentium II, 300 mHz
128 Mb RAM
30 MB free disk space
Try PDF Pro 10 Free for 14 days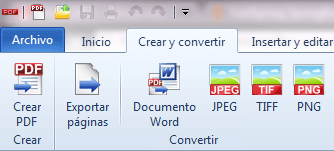 Accurate PDF to MS Word conversion:
One of the most commonly-used features found in PDF Pro 10 is the converter, which allows you to export PDFs into text-based Microsoft Word documents as well as a variety of image files (TIFF, JPEG, PNG). All of your converted documents will retain their original layout, graphics and formatting. PDFs converted with PDF Pro 10 are also guaranteed to work on any version of Microsoft Word, so everybody will be able to open them. With PDF Pro 10, you can now convert PDF documents to Word or image files with just a few clicks. Download PDF Pro 10 today and instantly convert your PDF files into fully editable Word documents or images.

Key PDF conversion features:
Convert PDF into fully editable Microsoft Word documents with just one click
Convert PDF into TIFF and JPEG image files
Preserve formatting, layout and graphics
Fastest conversion speed on the market